Discover more from Generational
In-depth essays and briefings about the most consequential AI trends and companies. Read by >1,000 leading investors and operators.
Over 1,000 subscribers
GenAI Founders & Funders Happy Hour
Second Quild event in San Francisco on Feb 13 (limited spots)
Hey all, on the back of an amazing AI founders happy hour last week, I'm organizing another event. This time its open to both founders & investors which I'm fortunate to be co-hosting with a group of awesome AI investors - Wesley from Section32, Kleida from Glasswing Ventures, and Anisha from B Capital.
The event will be held on the eve of the GenAI conference on Feb 14 - which is an interesting choice of day to hold a conference. Maybe its intentional for nerdy GenAI folks to self-select themselves? Either way, I'm going and I'm digressing. Here the event details:
Feb 13, Monday

530-830PM PT

Somewhere in San Francisco
If you're building or investing in AI, sign up here: registration
---
Reflections on the first Quild event
I co-hosted the event with my friend (and amazing investor) Ashish of Thomvest. The event reminded me of why I fell in love with San Francisco in the first place - the meetup culture of strangers eagerly sharing what they're building over pizza & beer. There would also always be that one person commenting that the beers weren't hoppy enough. So it was quite nostalgic - post COVID and post VC life - to again be in a packed room of people quipping about wine while also waxing lyrical about vector databases & ChatGPT. Thank you to all those who joined us for the AI founders and builders happy hour!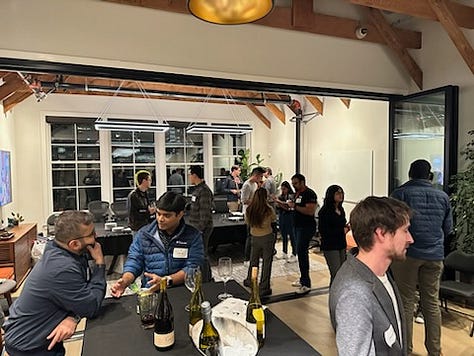 ---
Thanks for reading! Subscribe to get updated on the most consequential AI companies, trends, and events.